Premium Sports Massage Services
in Bradenton & Sarasota, Florida
We are your neighborhood sports massage facility offering the best treatments from the most talented therapists in the area! We specialize in deep tissue massage and cupping as well as many other modalities. Although our focus is bringing relief to athletes, we work with people of all kinds and are happy to provide a massage for anyone!
Nani Brown took ownership of Kinetic Sports Massage and Therapy in September 2023. She has lived in Sarasota since 2001 and graduated from Sarasota School of Massage Therapy in 2015. She has had many years of continuing education introducing her to a wide range of massage modalities and mostly uses deep tissue, cupping, and neuromuscular techniques. Nani has been a receiver of massage for many years, which is partially what led her to pursue this healing profession, along with wanting to make a difference and have a positive effect on people.
She has an intuitive approach to the treatment she provides. As an avid runner and great listener, she is able to identify well with an athlete's needs and preferences.
She has a great appreciation for quality time with her boyfriend, adorable dogs, friends, and family!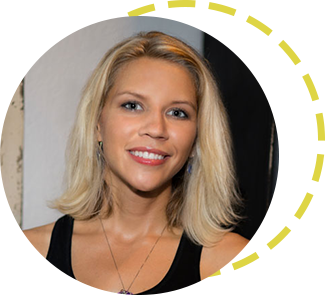 Lindsay is a graduate of both The Sarasota School of Massage Therapy and Fashion Focus Hair Academy. As a dual-licensed professional, Lindsay relies on the story the body is telling her to formulate a treatment.
Knowledge is power, so Lindsay continues to take multiple courses to further her knowledge about the body and learn more techniques to encourage a state of balance in her clients. Lindsay's continuing education has brought her deeper knowledge in cupping, stretching techniques, Sacred Hawaiian Massage, and most recently a certification in prenatal massage. She is also a level 3 Reiki practitioner. With all her training, she is better able to facilitate and guide her clients back to a state of comfort and optimal function.
In her free time, Lindsay enjoys trying new exercises, yoga, dancing, painting, gardening, camping with her children, exploring nature, traveling, cooking, and water sports.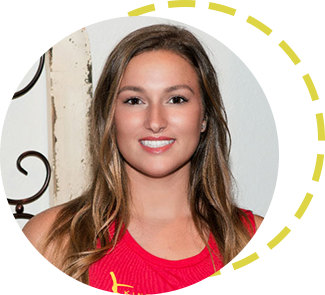 Olivia Szoldatits, LMT, NMT
Olivia is a graduate of The Sarasota School of Massage Therapy. Her experience has guided her to use deep tissue and Neuromuscular techniques, as well as Myofascial work, cupping, and stretching. These techniques, along with Swedish bodywork, are all utilized to assess each client and ultimately achieve the best result during the therapeutic process. There is no one-size-fits-all approach for a massage or bodywork session, and Olivia knows each person presents a unique set of conditions, preferences for pressure and techniques, and goals for any given session. Whether it's muscle soreness, overall tension, or a specific injury, Olivia will help you work towards a healthy outcome.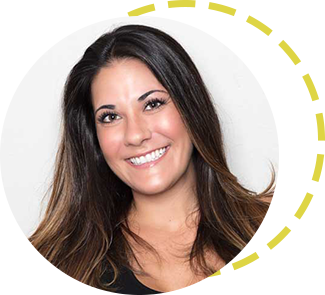 Nicole Marie began working as a nurse eight years ago; her passion for aiding the healing process quickly transformed into a love for massage therapy. Most people have no idea how well their bodies are designed to perform, but through education and a combination of multiple modalities tailored to each client's individual needs, transformation is inevitable. Her favorite tools for achieving a change in a client is deep tissue, trigger point therapy, cupping, and Thai techniques.
Balance is important to Nicole; she makes time to spend with family, friends, traveling, boating, cooking, yoga, and living life the way it's meant to be lived.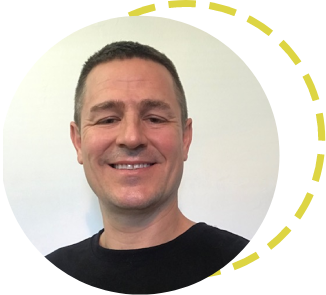 With over 20 years of experience as a professional Massage Therapist and Educator, Kevin brings an expert approach to all client sessions. He integrates multiple modalities into every session to treat each client with a comprehensive approach. Kevin specializes in Neuromuscular Massage, Deep Tissue, Myofascial Release, Stretching, and Swedish techniques. He is also trained in the application of cupping, Orthopaedic Massage, and injury rehabilitation methods.
He approaches each client in a holistic manner to treat the root issues of pain and tension while also working with the client to treat the whole person according to their goals. He follows the philosophy that "Massage Therapy is no longer considered just a luxury. It is a vital part of an individual's lifestyle that can help to improve one's overall health and wellness".
Kevin enjoys fitness, spending time with his two kids, and as an instructor at the Sarasota School of Massage Therapy, loves sharing his passion for Massage and Bodywork with others.
Brian has been a Licensed Massage Therapist in Sarasota since 2010. He stays very busy bringing relief to his clients and even saves time to volunteer on the weekends. Brian uses a lot of neuromuscular techniques, does great deep-tissue work, and has a very calming presence.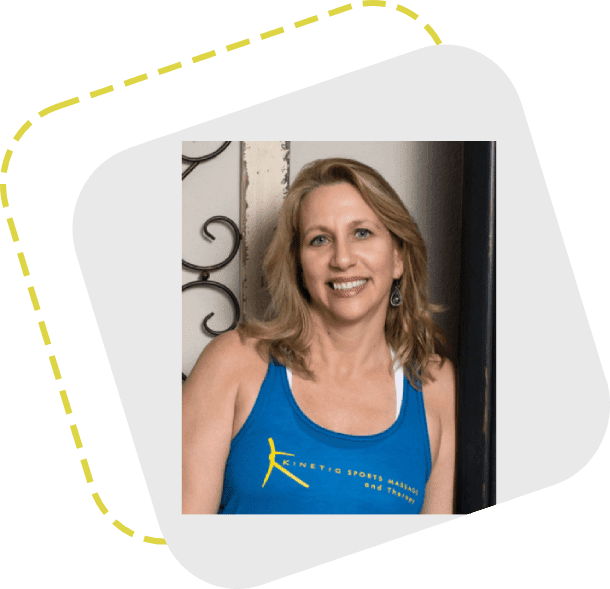 Susan founded Kinetic Sports Massage and Therapy in 2009 to merge a life-long love of massage and a passion for triathlon training. It was a dream of hers for many years. She worked with all levels of athletes who experienced the undeniable benefits of massage integrated with fitness. In 2015 Susan expanded her practice to include many very talented massage therapists. She has now retired from massage therapy and sold the business to Nani Brown. She is still a  continuing education provider teaching state-wide, and highly recommends you to come and experience the Kinetic difference for yourself! Continuing Education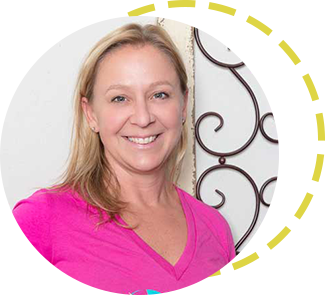 Katie Jones owns and operates the Kinetic location in Cookville, Tennessee as an LMT,  and Continuing Education Provider. Katie graduated from The Sarasota School of Massage Therapy in 2000, began a thriving practice as well as becoming an instructor SSMT in 2003. She specializes in working with athletes utilizing Deep Tissue work, Hydrotherapy, and Neuromuscular techniques. She is also certified in Prenatal massage, Thai on the Table, and Canine Massage.
Katie grew up in Sarasota and was introduced to the transformative effects of good bodywork after suffering several sports-related injuries and dealing with reoccurring migraine headaches early in life. She balances her time by seeing clients, teaching, and spending time with her awesome family.
We were recently interviewed by Kelly Church of Florida State Homes. 
Check out our awesome article!

Kinetic Sports Massage is by far the leader in sports massage. They understand athletes because they are athletes. Their experience gives them a superior advantage when it comes to dissecting muscle soreness, acute injuries, post/pre-competition and overall bodywork. Kinetic has played an integral part in my performance and injury prevention. My ability to complete an Ironman and several Half Ironman events is no doubt because of consistent work with Kinetic Sports Massage.
Nick C.
he healing hands of Kinetic Sports Massage brought me back from a 6 month lay off due to a debilitating injury. In addition to that, their work, after only a half dozen sessions is reversing almost five years of excruciating Achilles pain. In one session they were able to identify the problem areas and developed a comprehensive program to get me back to my former level of competitiveness. During my 30 years of competitive running and Triathlon racing, I've worked with several Deep tissue massage therapists for extended periods and Kinetic is without a doubt, the best I've had. After almost a year of self doubt, I now believe that I will be able to get back to a high level of training and racing.
John D.
Becoming an Ironman has been a life goal of mine since I was a little girl. knew the training would be hard work and long hours. I knew I had the WILL but the question that lurked, at 42 years old would my body cooperate? Half way into my training I began to experience discomfort in multiple muscle groups. I had pain in my right foot. I felt beat up and wondered if I could complete my training. My coach asked me why I wasn't getting sports massage like she had recommend. I had it in my mind that, "I didn't NEED it." That it was too expensive and if I stretched and foam rolled I didn't need sports massage. I was so wrong! I went for my first massage. It was a miracle! I couldn't believe the difference in my body! All discomfort went away. This left me with the ability to focus on training harder. I started working with Kinetic Sports Massage every two weeks and quickly increased to once a week. I remained injury free throughout the entire training regimen. I truly believe that today when I say, "I AM an IRONMAN!" that I can say it because of Kinetic Sports Massage.
Jeannie W.
My husband and I have had bodywork from Kinetic Sports Massage since 2009 and I am happy to say I have been injury free the entire time during my endurance training (half and full ironman distance training). Kinetic Therapists are very knowledgeable about the body, different injuries, and how to work through and around them to get your body moving healthy and efficiently again. I am very thankful for their expertise and continued desire to learn new techniques for continued success.
Nicole C.
Kinetic Sports Massage has been instrumental in helping me reach my running goals this year. Not only am I convinced that she has "magic hands," their advice and guidance have been invaluable when it comes to training and racing. Kinetic is an excellent resource, and I look forward to continuing our relationship as I set more goals.
Susan M.
Kinetic Sports Massage is unique to any massage experience I have ever had. Kinetic understands the aches and pains we runners have. They're accommodating, professional and the best at massage. Kinetic therapists worked with me throughout my marathon training and will continue to keep me "run ready." Not only is the experience in the massage room incredible but Kinetic always follows up to make sure I am feeling ok – very unique!! I would not be able to keep my body in shape without Kinetic Sports Massage!
Linda C.
Without the consistency of massage, I would not be able to train as hard as possible, nor recover as quickly as possible. As an athlete, I want a massage therapist that is an athlete, and understands the physical and mental components of being an athlete. I want someone that assists me in excelling as a competitive athlete. As a 7x qualifier of the Boston Marathon, I need perfection. And the therapists at Kinetic Sports Massage fit that role. They're an outstanding, professional and compassionate massage therapists that have been extremely instrumental in enhancing my performance. Thank you Kinetic for helping me stay healthy and fast!
Tara H.
Nicole is amazing at massage therapy. She is professional and personable. During my first session, she quickly made both my mind & body feel at ease. My job is physically demanding & deep tissue massage is key to preventing injury. Nicole tailors each session to my body's specific needs and I am grateful to benefit from her expertise.
Mel Y.
I cannot recommend Kinetic enough!! From the very first phone call to all of my wonderful sessions, professional, friendly and simply terrific service. I go regularly now and always look forward to my next session because I know I will leave feeling wonderfully relaxed!!
Karen
Receiving a therapeutic massage from Nani is something special. Nani is unique in her treatment skills, but also you can feel her vibrations. She is one of the very best.
Gerry D.
I was given a gift certificate for a massage with Nani at Kinetic. After a conversational evaluation, we decided she would focus on my shoulders and upper back to address my pain from chronic tension. Not only did I feel immediate relief and a thousand times better, but I have already talked to Nani and made plans for my next massage!
Maggie H.
I pulled a muscle in my lower back while lifting something at work. I was in agonizing pain!! I called my doctor and I called Nani. My doctor couldn't get me in for a couple days, but Nani made some adjustments and was able to get me right in for a massage. I could barely sit in my car because my back hurt so bad. I was hoping she could loosen me up enough to make me comfortable while I waited to get in to see my doctor. Nani worked on my back for an hour, mostly focusing on the area that I had injured. Not only did she make me comfortable, like I had hoped for, I was able to cancel my doctor's appointment. I called her later that afternoon to tell her she was my miracle worker. Her hands are like healing magic!!!
Jen H.